Holla Guys, today is Wednesday and today is English day, Yeeaaayy. For the first time, Beta announce that every Wednesday we'll post an article about the latest news out there, hot issues and many more. And for this article, we'll talk about the latest sequel of Harry Potter.
Good news good news, for the die-hard fans of Harry Potter, JK Rowling will release a latest book of Harry Potter series titled "Harry Potter and the Cursed Child", that we've been waited for so long. JK rowling announce that she will release the script of "Harry Potter and the Cursed Child" as a two-part book, at 12.01 a.m. on July 31, 2016. At first, there was a news that "Harry Potter and the Cursed Child" wasn't going to be released in book form, she had turned it into play that is set to debut in London, at the Palace Theatre on the day before Harry's Birthday, July 30.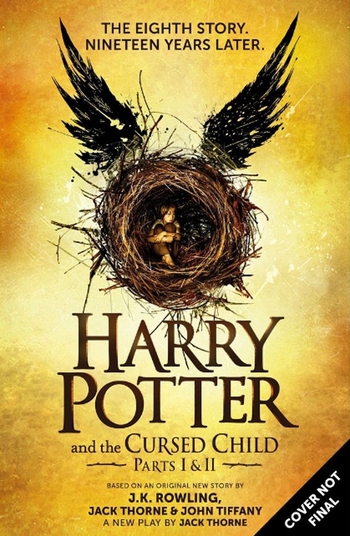 But on February 10, JK Rowling announce that the epic eighth Harry Potter story can be read and enjoyed by a wider, global audience. @pottermore announce it by twitter and posted the cover too (cover not final). @pottermore "we're thrilled to announce a new publishing programme from @jk_rowling #WizardingWorld "."Harry Potter and the Cursed Child" is so special because it is the first official Harry Potter story that will be presented on stage. The play was not written by Rowling herself. English Playwright Jack Thorne wrote the script based on the original story that Rowling wrote. It is set 19 years later after the end of "Harry Potter and the Deathly Hallows," the last book series of Harry Potter.
And for your information guys, the play and the book that I mentioned above is not the only "Harry Potter-Things" this year. There's also "Fantastic Beasts and Where to Find Them", a movie based on one of Rowling's short "Harry Potter" companion books, hits theatre Nov 18. So for you guys who wanna book the ticket and go to London for watch this special play of Harry Potter series, you can book it online for price £15.00 / part, hehehe. And for you too who can't wait the book of this series, we're on the same boat.
See you next Wednesday, enjoy!.
By : Beta Club GSB IPB